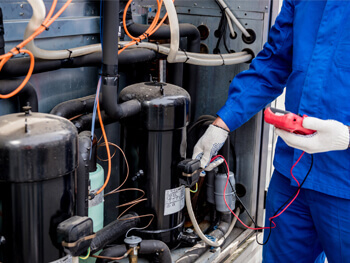 Regular HVAC equipment maintenance is crucial for efficient building management because it helps preserve your initial investment and improves the sustainability of facilities.
The U.S. Department of Energy estimates that organizations can save 5-20% annually on energy bills by following operations and maintenance (O&M) best practices.
At EMCOR Services Betlem, we create HVAC preventive maintenance plans customized to the needs of your commercial or industrial building.
Benefits of a Preventive Maintenance Program:
Improved Equipment Reliability – Routine maintenance keeps your equipment running and helps identify issues prior to failure.
Energy Savings – Preventive maintenance significantly impacts energy usage and can help increase energy savings.
Extended Equipment Life – Proper maintenance can add years of life to equipment and helps prevent unexpected breakdowns.
Consultative Facility Review – A full evaluation of a client's facility is performed, and recommendations are made to help their operation with cost and energy savings.
Choose Betlem for:
Advanced Technology – Betlem's energy technicians have access to real-time information via iPad tablets that eliminate costly, inefficient paper systems. Utilizing a vehicle fleet equipped with GPS systems, we provide clients with verification of hours worked versus hours billed.
Single-Source Solutions – Our technicians are trained to maintain entire systems and provide a single point of contact to support clients' facility requirements.
Customer-First Philosophy – Our business success is the result of continually meeting and exceeding customer expectations, which has allowed us to sustain the long-term business relationships we've developed over the years.
Contact Betlem today to learn more about our maintenance programs.