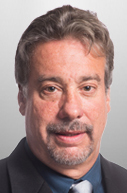 Steve Fuss
Service Project Manager




Value Delivered
Steve's responsibilities include commercial HVAC service sales, estimating, project management, specialty refrigeration repairs, retrofits, equipment replacements, and new installs. Steve brings a depth of knowledge in available rebates and incentives from the various utilities throughout Upstate, NY as well as the many NYSERDA programs to his clients as well. He offers experience in project planning and implementation, vendor relations, and quality control to ensure customer satisfaction.
Expertise
Steve brings over 24 years of diverse facilities management experience focused on heating, ventilation, air conditioning and refrigeration systems service repairs and project management. His broad array of experience ranges from being a manufacturers representative, an equipment startup technician, a facility manager, and currently a project manager. Steve has an Associate in Applied Science degree with a major in Mechanical Technology and A.A.S in Marketing.
Steve's years of experience in the industry enables him to analyze diversified building systems (HVAC) and processes, continuously expand his vendor relations, and improve project planning and implementation. His expertise is in working with clients to help them address their most pressing challenges, analyze their requirements, and identify effective and energy smart solutions. He spends quality time working with our technicians in developing teams that best suit our customer's needs.